Knitting has always been a form of art and it is one of the oldest ones. It is one of the basic techniques of creating clothes using a needle and yarn. It is said that knitting was first performed in the Middle East way back in the fifth century using wool and cotton fibres. Symbols are incorporated in the designs as a charm for avoiding bad luck. Around the fourteenth century, even fishermen use this technique to create their jumpers.
In the sixteenth century, even the first class of society started loving knitted items like stockings, socks, and tights. This is when it started to become a profitable industry. Aside from hosiery, knitted shawls, bags, and hats were introduced to the market. Initially, knitted items were mostly liked by women, but customers from all genders and walks of life started lining up. Knitting by hand takes a while, so machines were developed to make it faster and easier.
10 Best Knitting Machine that you can use for your hobby or business.
1. Prym MIDI 624168 Knitting Mill Machine
One of the most affordable knitting machines in this list, Prym MIDI 624168 Knitting Mill Machine is not only reasonably priced but also user-friendly and can finish projects at a rapid speed. This knitting machine is a recommended unit for beginners. It is suitable for both of your tubular and flat knitting projects. It can knit materials up to thirteen inches in diameter and up to a width of seventeen inches. It can withstand 0.22 lbs of materials which are 459 yards in length with an average of fifteen minutes. You can also carry it around easily as it only weighs 2.2 lbs.
2. NSI Knitting Machine


Kids are curious beings. Most likely, you have encountered a curious kid asking what you are doing as you concentrate on your knitting. Some of these kids would love to try it too and you will find yourself being bombarded by questions. Having the NSI Knitting Machine is a good thing. It is the greatest way to introduce knitting to these interested little individuals. It is safe for use for kids six years old and up. It is affordable and easy to use. This knitting machine comes with two yarn skeins and a safe sewing needle. The design is safe for kids and it does not require batteries as well.
3. NKOK Singer Knitting Machine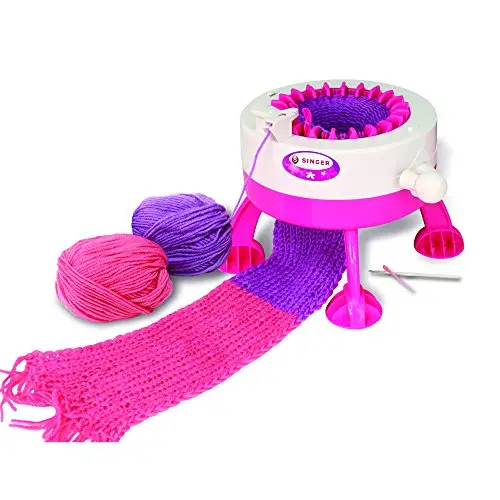 This knitting machine was created by one of the most famous sewing machine makers – Singer. It is an affordable sewing machine developed for beginners; both kids and adults. It is complete with a tension arm, 22 plastic needles, two yarn skeins, and a knitting hook. It is safe for kids six years old and up. It is incredibly lightweight with its 8x10x4 inches dimension. It is suitable for flat knitting round designs.
4. PowerTRC Smart Weaver Knitting Kit Machine for Kids
Like the NSI Knitting Machine, PowerTRC Smart Weaver Knitting Kit Machine is another child-friendly knitting machine for curious kids. The set comes with a beautiful blue and purple yarn, a crochet hook, a drainage needle, and an instructional booklet. It has 20 needles and a white needle which serves as a starting and ending point guide. It is suitable for knitting flat and round projects.
5. MIAOKE Knitting Machine
This knitting machine is perfect for both kids and adults. It will enable you to come up with flat or round projects. It has an amazing diameter of 37cm, making it one of the best knitting machines for beginners in the market today. It comes with an instructional booklet, a crochet hook, 48 yarn needles, wool and four yarn balls. Though it is for beginners, it will give you the power to produce projects which looks like it was done by an expert knitter.
6. Caron The Ultimate Sweater Machine
Caron The Ultimate Sweater Machine is a sought-after knitting machine not only by beginners but also by expert knitters which speak volumes about its quality. Most beginner machines allow you to create flat and round projects, but with this machine, you can perform fancy knitting techniques. You may do fair isle, cable picture knits, tuck stitch, lace, and any other stitches in your favourite knitting book.
A sweater is usually finished after a few days, but with this knitting machine, you can finish a sweater for an adult in just two days, while sweater for kids can be completed in one day. This is because it is capable of doing 12,000 stitches per minute. It also comes with an instructional DVD.
7. Liberty Imports Girls Crafts Smart Weaver Knitting Machine
This fast and easy-to-use knitting machine is suitable for kids 6 years old and up, as well as adult who are new to knitting. It comes with yarn skeins, an instructional manual, safe sewing needle, and a crochet hook. It is made of ABS plastic, meaning you can trust its durability. It can last for a long period, even until you have mastered knitting and ready for an expert-level machine. You can create round and flat projects with it.
8. Caron 20293 Embellish-Knit! Machine
If you have ever fancied creating an amazing 18-feet i-cord in a span of only 10 minutes, it is actually possible in real life with Caron 20293 Embellish-Knit! Machine. As you can infer from the knitting machine name itself, it can help you in embellishing your projects in no time at all. This knitting package includes a practice ball yarn, tapestry needles, five project patterns, and a weight clip. You just have to be careful with the weight of the yarn you'll be utilizing as it contributes to the smoothness of the knitting process.
9. addi-Express Professional Knitting Machine
So you have finally got the hang of knitting. It's about time that you pass on your beginner knitting machine to another novice and to get an expert-level one. This has 22 needles which will enable you to knit circular projects around 4 to 6 inches. It will also enable you to create plain knitting around 6 to 8 inches. It is compatible with most yarn types and has a lifetime warranty from the manufacturer.  You will be able to come up with professional-looking pieces with its counter.
10.  addi Express King Size Knitting Machine
Finally, we are now down to the most expert-level and highest rating of all the knitting machines in this list. You can create bigger projects with this knitting machine, such as hats, sweaters, boleros, jumpers, scarves, etc. It comes with a needle holder, a decrease needle, 46 needles, 5 replacement needles, digital row counter with memory capacity, 4 base feet, and 2 screw hooks. Though it can be mounted, it is best to find a stable workstation. If it wobbles during the process, it will affect the quality of your project. You will be able to come up with professional-looking pieces with this gem.
Each knitting machine above has unique benefits and features. These were recommended by experts so any will surely help you with your hobby or business.  In order to purchase the best knitting machine for you, consider your skill level. Aside from your budget, the best knitting machine should be suitable for the projects that you have on your mind right now. While it is nice to give away or sell something made by your own hands, you may find the demand overwhelming as your pending works pile up, especially when you're running a business or there are upcoming family occasions where you have to give gifts. A knitting machine will help you finish more beautiful items without compromising the personal touch.