Holidays and special occasions are the highlights of the years. Not only do families get together, but this is also the time where you get to feel, taste, and smell the familiar smell you can only have on holidays.
However, if you miss the smell of holidays, you can easily make a stovetop potpourri. In no time, your house would smell like Christmas, Fall, and other favorite holidays and seasons.
Potpourri on Stove
These potpourris on stoves are easy to make and can be reused and used for a longer time. Plus, they make your house smell amazing. You can take a nostalgic trip or keep the vibes going with these pleasing scents and smells.
There are different potpourris on stoves that can give you a different kind of smell. You can have your house smelling like it's fall, summer, spring, Christmas, and a coffee cake with a few key ingredients. Apples or oranges peels can make a good potpourri, which can leave your house smelling like an orchard.
This will help you use natural ingredients to keep your house fresh and good smelling. Try the different recipes and go all-natural with the different recipes for potpourri on stoves.
How to Prepare Potpourri on Stove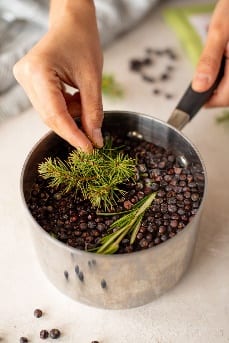 Preparing potpourri on the stove is easy. You just need to make sure you got all ingredients ready, and you are ready to get your home smell like you want it to be. Be it a special occasion or just another normal day, there no harm in making your house smell like Christmas in May.
To start, slice and prepare the fruits needed. Prepare the herbs and other ingredients as well.
Take a regular-sized pot and fill it with water. The amount of water will depend on your preference. You can even add more later.
Bring the water to boil. Then add the necessary ingredients on the water. Be generous with the ingredients. You can control how strong you want the smell to be.
Then simmer it down into a low heat until the smell envelops the house. You can keep it simmering as long as you like. Just make sure the water is enough.
Once you are done, you can keep the mixture inside a glass and refrigerate it. You can reuse and reheat it the next day and the days to come.
That is the simple and easy way to do homemade potpourri on stoves.
Potpourri on Stove You Can Try
Keep your house smell great without spending too much. Make a stovetop potpourri instead of using all the natural ingredients you can find at home. Make a different scent for your home each day, depending on your mood and preference. Here are the different ingredients you can throw together to create an amazing recipe.
Make your home smell like it's Fall
You will need the following key ingredients:
Cinnamon sticks
Vanilla extract
Orange peels
Bay leaves
Cloves
Make Your Home Smell Like It's Summer
You need to get the following ingredients:
Sliced orange, lemon or citrus fruit
Pineapple juice or slices
Coconut extract
Make Your Home Smell Like It's Spring
Get and mix the following ingredients:
Citrus fruits or lime
Mint
Thyme
Vanilla Extract
Make Your Home Smell Like Fresh Wood
Find and combine the following ingredients:
Make Your Home Smell Like You Baked a Pie
Combine the following ingredients:
Sliced Apples
Cinnamon sticks
Vanilla extract
Make Your Home Smell Like It's Christmas
Prepare and combine the following ingredients:
Cranberries
Orange
Rosemary
Cinnamon Sticks
Cloves
Nutmeg
Potpourri on Stove as Gifts
Potpourri on stoves can also be a good gift idea. These personalized recipes can be good holiday ideas or for any other occasion. This will be a fresh gift idea that would excite your friends, families, and colleagues.
You must first decide how to wrap your potpourri on stoves giveaways. Some would want it wrapped in cellophane covers, while others put it in a jar, boxes, and small baskets. It all depends on you and the amount of money you want to spend.
Gather all the ingredients. Measure the portions depending on the recipe and your preference. You can arrange them artistically in your chosen wrappers or containers.
You can attach the printed ingredients and a message to make it more personalized. Then your potpourris on stoves giveaways are ready to go.
Conclusion
Potpourri on stoves will surely make all the difference in keeping your home smell like you want it to be. Aside from the benefits it gives, it is also very easy to do and use. It takes less effort to keep your house smell fresh and inviting all the time.
Parties, celebration, and even the usual days will never be the same with these amazing potpourris on the stove you can simmer and use any time. Plus, it helps you save all the other fruits and herbs you stack on the fridge that will only rot. Take advantage of these recipes and save more. It's natural and chemical-free, which suits best for your health. Get your pots boiling for the best all-natural air freshener and get a smell of wondrous things.